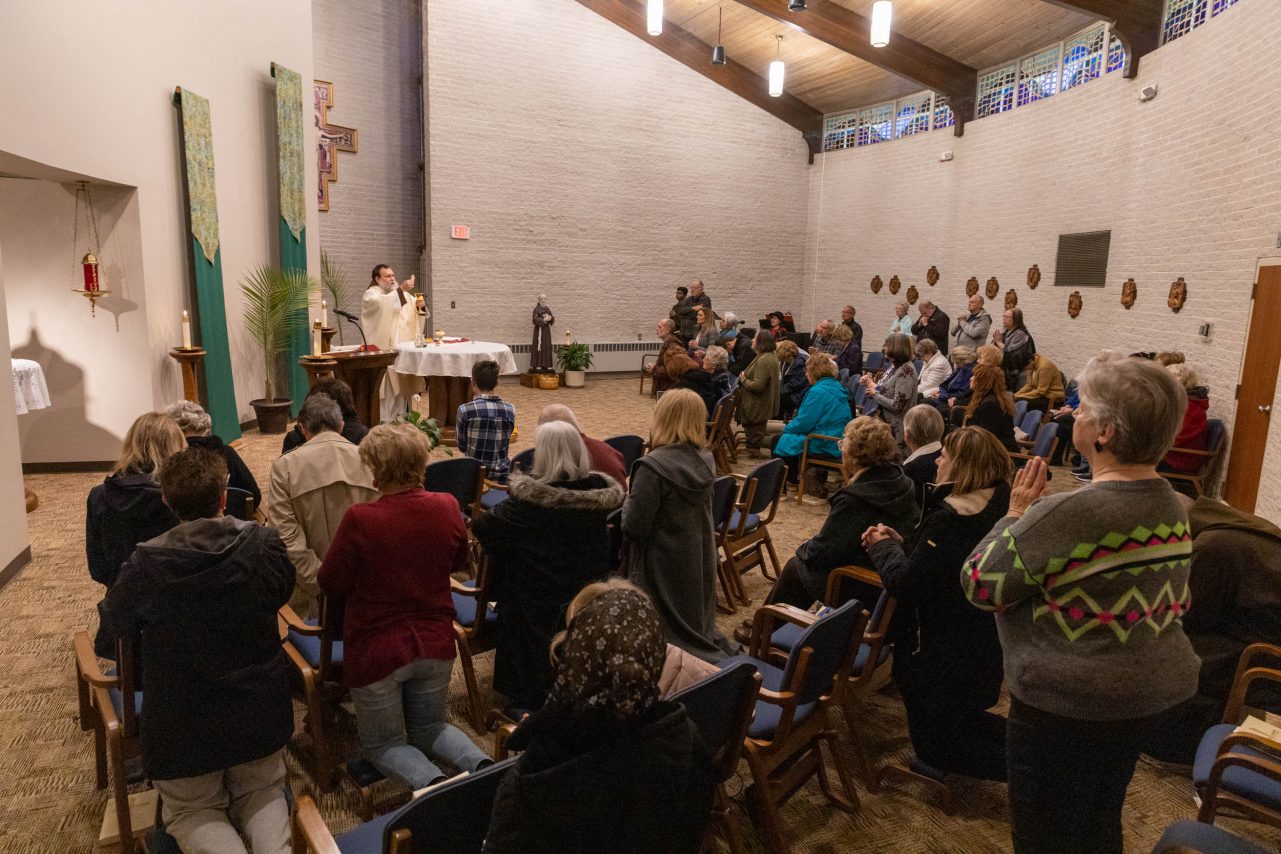 Mass is the source and summit of our faith as Catholics. Going to Mass is about spending time with God, but also receiving his graces and inner strength to help us live out the gospel message. Below is a list of available Mass times at Capuchin Retreat as well as other sacraments offered at Capuchin Retreat:
Mass Times:
The Capuchin Retreat Center offers a daily morning Mass in our chapel Monday through Friday at 8:00 am. We also offer an evening Mass on Wednesday at 7:00 p.m. Every first Wednesday of the month we will offer blessings with a relic of Father Solanus at our 7:00 p.m. Mass.
Monday – 8:00 a.m.
Tuesday – 8:00 a.m.
Wednesday – 8:00 a.m. and 7:00 p.m.
Thursday – 8:00 a.m.
Friday – 8:00 a.m.
Please note that there is no public Sunday Mass at Capuchin Retreat due to our weekend retreats. We respectfully ask the faithful to worship at their home parish on these days.
Relic Blessings:
On the first Wednesday of the month during our 7:00 p.m. evening Mass we offer blessings with a first class relic of Blessed Solanus Casey, one of our Capuchin brothers on the road to Sainthood. Inspired in collaboration with the Blessing of the Sick service offered at the Solanus Casey Center in Detroit, we hope this blessing provides a powerful experience of prayer and grace for those who attend.
Reconciliation:
In addition to the sacrament of Holy Communion, which is offered during each Mass, Capuchin Retreat Center also the Sacrament of Reconciliation (confession) for a half hour after each Mass or by appointment. Monday – Friday 8:30 a.m. to 9:00 a.m.
Adoration:
Adoration is also available at Capuchin Retreat Center on both Mondays and Fridays from 8:30 a.m. to 9:30 a.m. following morning Mass.