St. Bonaventure
July 15, 2021
Capuchin Retreat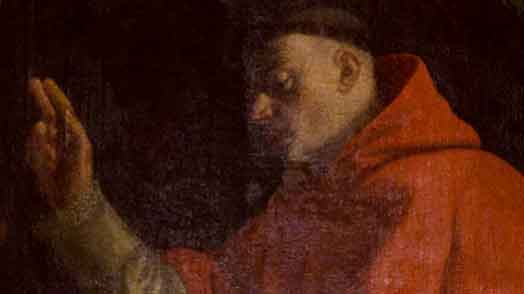 By Fr. Tom Zelinski, OFM Cap.
On July 15, the Church honors St. Bonaventure, the great Franciscan mystic, theologian, and Minister General of the Franciscan Order. He is often called the "Second Founder" of the Franciscan Order for a couple of reasons. He lived in the 13th Century and joined the Order not too long after the death of St. Francis.
He took up the ideas and spirit of St. Francis and gave them some theological form and structure. His famous work, The Journey of the Soul into God, tells of a way of prayer and spirituality that incorporates the Franciscan spirit. He builds on Francis' appreciation of nature and all of creation as reflecting the presence of God in all things.
He is associated with the phrase vestigia Dei, the "footprints of God," which are to be found all around us in the created world.
Bonaventure is also considered the Second Founder in the way he helped to reconcile two factions in the Order, which were having disagreements about how to truly follow the spirit of Francis.
He was asked to become a bishop and he refused until finally he was prevailed upon to become bishop of Albano and was made a cardinal. With that is connected the little story of how delegates from Rome came to give him his cardinal's red hat. He asked them at first to wait outside and hang it on a tree while he helped wash the dishes. The humble spirit of a great man.